CLARISSE DESIGNS
Welcome to the world of Clarisse Designs, where exquisite craftsmanship meets unparalleled designs! As a premier wholesale dress designer, we specialize in curating a breathtaking collection of dresses for every special occasion, including prom, pageant, bridal, and cocktail events. At the heart of our brand is a commitment to delivering high-quality designs that embody sophistication and style.
What sets us apart is our meticulous craftsmanship, attention to detail, and unwavering dedication to ensuring a perfect fit for every wearer. We understand that each individual is unique, and our dresses are crafted to accentuate and celebrate the beauty of every body shape, offering a range of sizes from 00 to 30. As a wholesale partner, we take pride in fostering lasting relationships with retailers who share our passion for delivering exceptional fashion to their clientele. Our wholesale program is designed to make it easy for retailers to access our curated collection, providing them with a diverse range of dresses that cater to a variety of tastes and preferences. At Clarisse Designs, we believe that every special moment deserves a dress that is as unique and extraordinary as the person wearing it. Explore our collection, and discover the perfect dress that will make every occasion a moment to remember.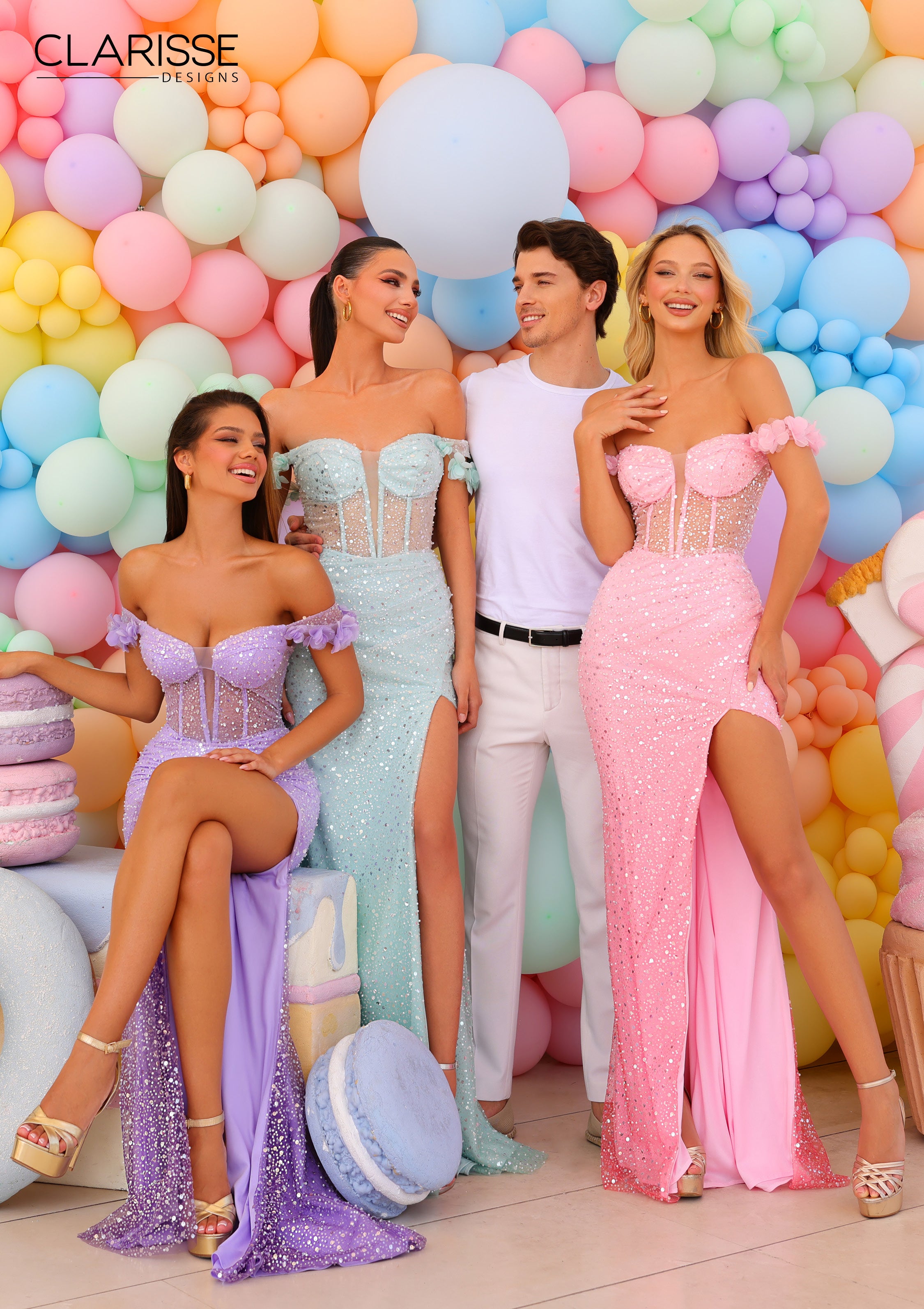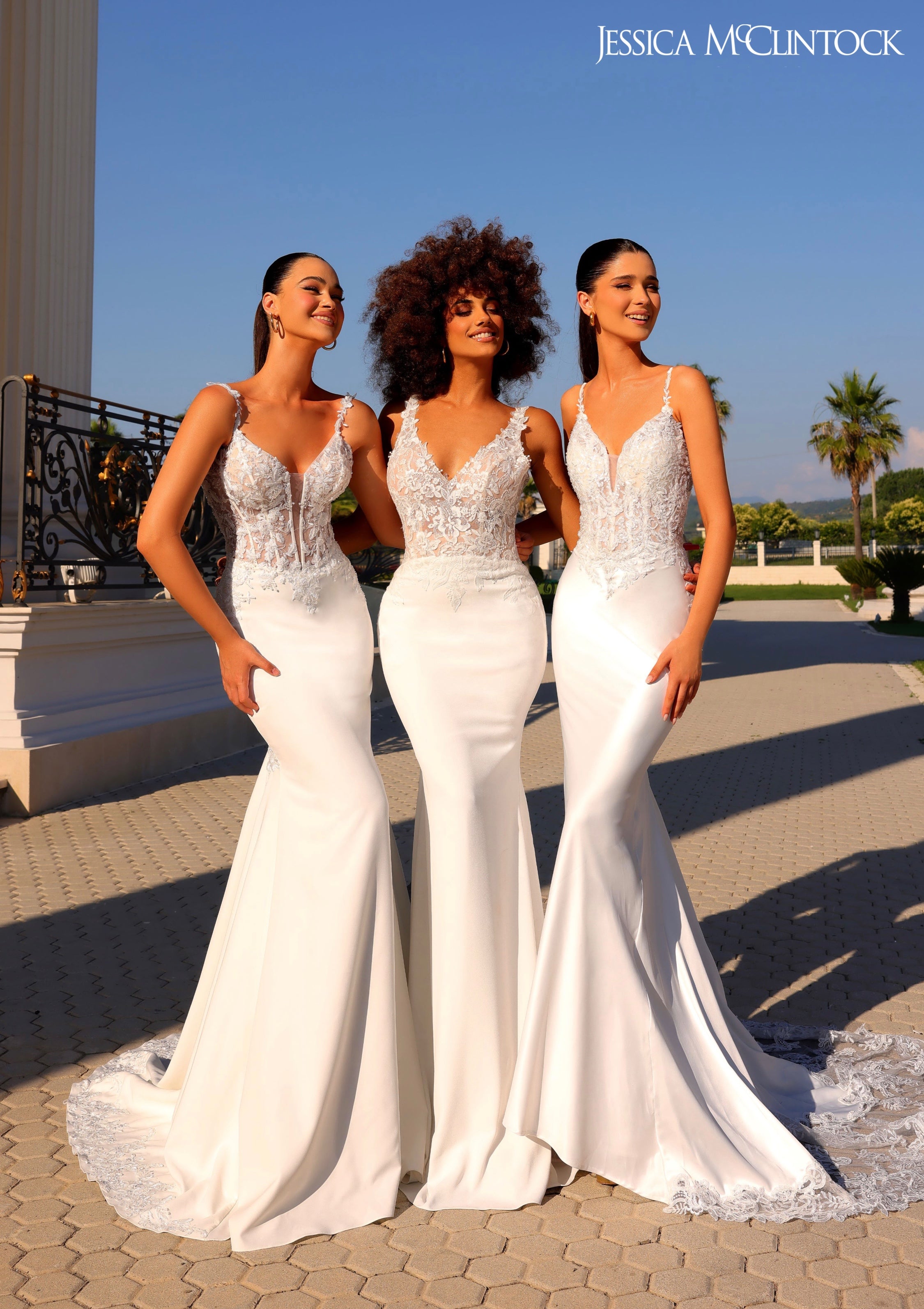 JESSICA MCCLINTOCK BRIDAL
For over four decades, Jessica McClintock has been an iconic figure in the world of fashion, renowned for her unparalleled ability to blend timeless elegance with contemporary flair. As a celebrated wedding dress designer, McClintock has left an indelible mark on the industry, captivating brides worldwide with her exquisite creations.
Each Jessica McClintock wedding dress is a testament to the designer's unwavering commitment to craftsmanship and attention to detail. From the first sketch to the final stitch, every gown is a work of art, meticulously crafted using the finest fabrics, lace, and embellishments. The result is a collection that radiates grace, sophistication, and a touch of magic, as well as thoughtfully priced to provide you with the utmost value for your investment! With an innate sense of style and an eye for trends, our Jessica McClintock continuously pushes the boundaries of bridal fashion. This collection is a perfect fusion of timeless traditions and modern sensibilities, offering brides a fresh perspective on what it means to be elegantly fashionable. Jessica McClintock wedding dresses are not just garments; they are heirlooms that hold the promise of cherished memories. With a Jessica McClintock gown, a bride becomes part of a legacy of beauty, grace, and enduring style.
VERRA VALLE BRIDAL
The Verra Valle Bridal Collection represents timeless elegance with exceptional value. We take immense pride in curating a stunning collection of couture bridal gowns that embody beauty, grace, and sophistication. Our commitment to quality craftsmanship ensures that every gown is meticulously designed and tailored to perfection.
From hand-embroidered lace to delicate beading and intricate appliques, we ensure that every detail is crafted to create a dress that is both classic and unforgettable for the Verra Valle Bride. Explore our exquisite collection of couture dresses and discover the epitome of elegance and timeless beauty with our Verra Valle wedding dresses. Let us be a part of your journey towards your happily ever after.